WWII History Magazine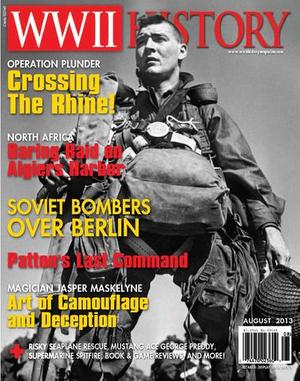 About WWII History Magazine
Whether you are an armchair historian or a serious student of modern world history, World War II History magazine brings the battles, personalities, and equipment of the globe-spanning war to life. From major engagements to little-known details about the war, this magazine provides in-depth coverage that isn't often found elsewhere. Written in an easy-to-follow style, World War II History magazine focuses on accuracy and research, so you can trust that the things you are learning represent an accurate depiction of the event. The detailed articles include maps and photographs to help you better understand what was going on at the time and give you a deeper appreciation for what the men and women of that generation went through. World War II History magazine covers all geographical locations where the war was fought, from the European front to the China-Burma-India theater. You'll also delve into top secret details about intelligence operations of the time, learning how plots were foiled and unknown heroes saved the day on multiple occasions. In-depth explorations of specific weapons, aircraft, and pieces of military equipment give you even more insight into the war. Each issue also includes reviews of related products, such as books, movies, and games, to help you decide on the best resources to take your exploration of World War II personalities and events even further. Whatever your level of interest in war history, World War II History magazine delivers impressive coverage written in an engaging style that will captivate your attention from the first page to the back cover.
Shipping Information
Shipping is always FREE at TopMags. Due to magazine subscription cycles, please allow up to 8-12 weeks after purchase for your first issue to arrive. You may not receive the exact issue depicted above, but you will receive the most recent issue of WWII History once your subscription begins. The WWII History cover image(s) above are the sole property of WWII History, or its parent company and are for illustrative purposes only. TopMags is not officially affiliated with or endorsed by WWII History.
---