Inc, Entrepreneur & Fast Company Bundle Magazine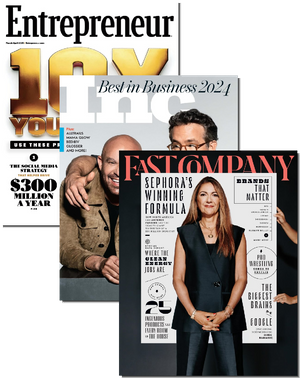 About Inc, Entrepreneur & Fast Company Bundle Magazine
This Business Bundle is the perfect gift for the serial entrepreneur. Keep your business savvy friend on point with all of the latest trends in new companies, technology and financial issues. They will be thanking you every month this year and beyond!
Entrepreneur
magazine is a quality resource for aspiring entrepreneurs as well as those who already have their new business. Every issue of this subscription has interesting and informative articles that will help you improve your personal business strategy. There are features about marketing, growing your business, becoming the leader that you want to be, financial issues that impact many businesses, better business technology, and many other topics. This periodical has all that you need to start your new business. Order your discount subscription to Entrepreneur magazine today!
Inc.
magazine provides you with business ideas that you can implement into your own life. As a magazine focused on small businesses and entrepreneurship, it has the unique ability to publish articles highlighting successful entrepreneurism and how to replicate it. Subscribe to success with
Inc.
magazine.
Fast Company
magazine is a modern resource for those who enjoy reading about business and innovation. In each issue you can read about all of the current trends in the business world. There are also features and interviews about the world's leading businesses as well as the most successful entrepreneurs who started them. You will enjoy having access to such a unique perspective into the world of business with this periodical. Order your discount
Fast Company
magazine subscription today to start reading!
Shipping Information
Shipping is always FREE at TopMags. Due to magazine subscription cycles, please allow up to 8-12 weeks after purchase for your first issue to arrive. You may not receive the exact issue depicted above, but you will receive the most recent issue of Inc, Entrepreneur & Fast Company Bundle once your subscription begins. The Inc, Entrepreneur & Fast Company Bundle cover image(s) above are the sole property of Inc, Entrepreneur & Fast Company Bundle, or its parent company and are for illustrative purposes only. TopMags is not officially affiliated with or endorsed by Inc, Entrepreneur & Fast Company Bundle.
---