Maximum PC & Wired Bundle Magazine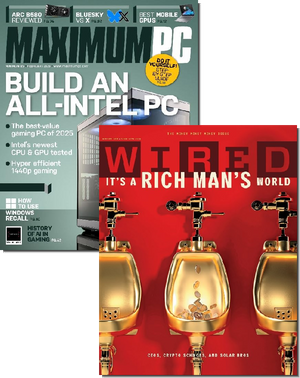 Maximum PC & Wired Bundle Magazine
This magazine is no longer available through TopMags.com
About Maximum PC & Wired Bundle Magazine
Are you techno savvy? Looking to make improvements to your PC? Or just trying to keep up with the latest in home computing? Maximum PC is the No.1 magazine for home computing enthusiasts. Editorial covers reviews of new computers and equipment, profiles of leaders in the industry and those making advances. Subscribe to maximumpc today!
About Wired:
Get "Wired" into the latest technology trends. Find out how the latest trends in technology affect the world of business, entertainment, culture, and politics. Each issue covers the latest gadgets, games, software, and industry news. Make technology a part of your life with this exciting magazine subscription. Get wired in today!
Shipping Information
Shipping is always FREE at TopMags. Due to magazine subscription cycles, please allow up to 8-12 weeks after purchase for your first issue to arrive. You may not receive the exact issue depicted above, but you will receive the most recent issue of Maximum PC & Wired Bundle once your subscription begins. The Maximum PC & Wired Bundle cover image(s) above are the sole property of Maximum PC & Wired Bundle, or its parent company and are for illustrative purposes only. TopMags is not officially affiliated with or endorsed by Maximum PC & Wired Bundle.
---